Island Pag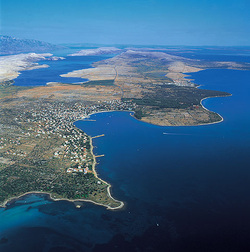 The island of Pag is one of the biggest Adriatic islands with 285 km2, the fifth largest, but with 270 km of coastline the island with the longest coastline on the Adriatic, rich with coves, bays, beaches and capes.
The bay of Pag is rounded by 20 km of beaches. Pag is unique due to its vegetation - Pag is the largest kingdom of rocky ground on the Adriatic, where thin grass, low aromatic herb cover, sage and immortelle. These herbs are exactly what is essential in the diet of sheeps on rocky ground, and it gives a special flavor to the famous Pag cheese.

The largest and most important town on the island of Pag. Pag is the town of sea salt. Because of its importance in the 15th century Pag originated as planned and fortified city, the tour provides a special feeling. The Pag has salt manufacture by draining of the small clay pools which introduces sea (saline). These pans except that provide authenticity, appreciate the motive for the shooting. Pag is the town of the famous handmade Pag lace which is nurtured through the centuries, each is a unique item, and that slow and demanding hand craft lives today on the streets of the old city.

Historically and culturally interesting place in the town of Pag is the oldest town on the island. Kilometer south are the remains of a settlement (a fortified convent and church) which preceded today's Pag - the old town of Pag which Bela IV 03.30.1244. gave the attributes of a free royal city. Building a new city under strict designs Croatian Renaissance sculptor and architect George Dalmatian began in 1443. It ended after two decades.

During the winter carnival, summer carnivals and during the season there is a rich cultural and entertainment program. From centuries-old tradition can be extracted "Pag Slave girl" in style of "holy apparition," folklore, the carnival circuit with city brass band, old folk costumes, songs and dances to "mišnjicama" (Carnival is held during the last days of July).

Pag offers unusual shapes, wild exoticism, gentle oasis, hiking trails and shallow bays to take several days. Traveling north side of the island is recommended during the summer, and then suddenly rush out in a different world of rock and sea, everyone who has a little of pioneering research in itself, Pag can be an unforgettable experience.
---